NEW CATHOLIC HYMN BOOKS
Music Composed by
Le Mamea Filifilimaali'i  Pute Tafuna'i
mailto:https://pureheartmusicphm.bandzoogle.com/home
Hymn Books can be ordered from my site if you're in the United States. You can order books from Le Mamea in Australia if you're in Hawaii, New Zealand, Samoa, American Samoa, and Australia.
NEW CATHOLIC HYMN BOOKS
1. E SILISILI 'ESE LE ATUA  
(God is Great Hymn Book)   
- 368 Sacred Songs, Solos, Anthems
& Psalms
ORDER BOOKS FROM:
Theresa Peteru
Hampton Park, Victoria 3976
Melbourne, Australia
Email: theresapeteru@gmail.com
Phone: 0481198490
James Roebeck
Carrara, Gold Coast 4211
Brisbane, Gold Coast, Australia
Email: roebeckjames@gmail.com
Sauni Aukusitino
Wellington, NZ
Phone: 027 348 3576
Namulauulu Paul Pouesi,                                                                USA
paulpouesi@gmail.com
 
2. ALOFA MAMANA O IESU 
(Sacred Love of Jesus)  
- 45 Songs for Prayer Meetings & Praisings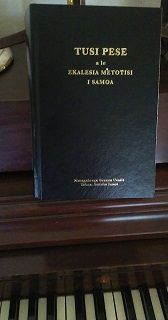 TUSI PESE a le EKALESIA METOTISI i SAMOA                                (Old & New Hymns, Anthems, Psalms)                                    
Contact:                                                                                            Rev. Numerator Ofoia (Manager)                                                SAMOA WESLEY BOOK SHOP, METHODIST CHURCH                  Tel: +0685 24231                                                                              Mob: +0685 7617336                                                                      Email: numerator.o@gmail.com
Or:                                                                                                                                 
Tauiliili Pemerika                                                                          Home: 684-699-6072                                                                  Mobile: 684-733-5634                                                                    Email: pemerika.tauiliili@gmail.com                                         Printed in the U.S.A.  -  KIN PUBLICATION - Sept. 2019
USE THIS COLUMN IF YOU ARE ORDERING FROM INTERNATIONAL COUNTRIES. 
Please add $40.15 shipping costs.
PLEASE NOTE THAT SHIPPING COSTS  VIA PRIORITY MAIL TO INTERNATIONAL COUNTRIES ARE HIGHER.
Shipping costs to Australia and New Zealand - $80USD 
 YOU CAN ALSO ORDER HYMN BOOKS FROM: 
KANANA FOU BOOKSTORE,  Tafuna, American Samoa
USE THIS COLUMN IF YOU ARE ORDERING FROM AMERICAN SAMOA & U.S.A.
Shipping costs in the United States - $8.55
Hawaii - $24 - Expensive State :)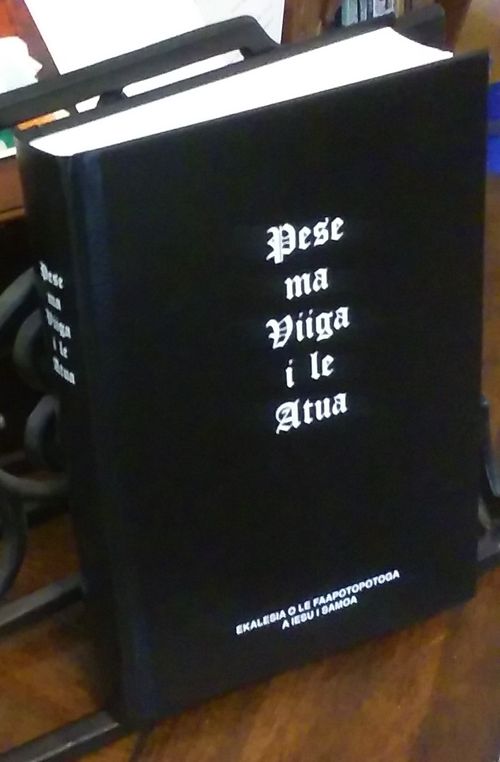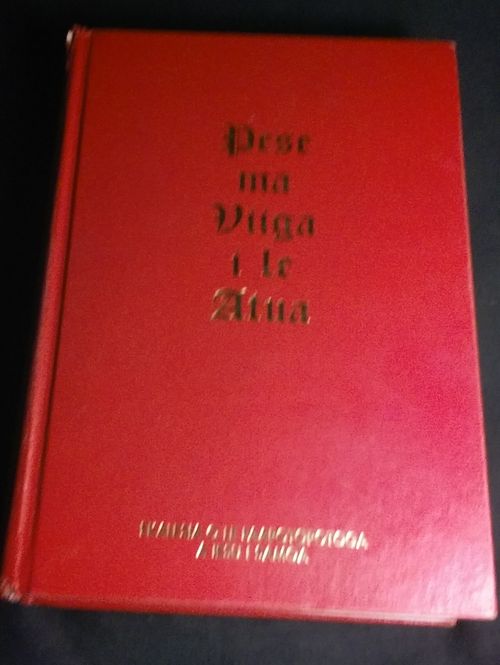 ON SALE NOW!
New CCJS Hymn Book (2017).                       Original compositions (Old & New)              - 416 hymns.         
Price: $40ST (Shipping not included: Value of USD dollar varies)- Sold only in Samoa
Please contact Rev. Tino Sauaga for more info. 
Email: tino.sauaga2013@gmail.com
CCJS Hymn Book (1954; Revised 2005)        354 Hymns; 6 Anthems; 1 Salamo (Ps.104)
Price: $20USD (Shipping not included)           - Sold only in American Samoa
Please contact Ruta Fou:                       - Treasurer, CCJS Pago Pago, American Samoa
Email: rutafou3@gmail.com
Song Books & Lesson Books
Folksongs of Samoa is a collection of traditional, folk, love, and game songs for children. It is being introduced as a supplement to the Elementary Music Curriculum in an attempt to revive and preserve old Samoan songs.
Lesona Piano Method Book is designed for Beginner to Intermediate levels.
Contact us for special order: paulpouesi@yahoo.com