YouTube videos of choirs are samples of some of the psalms/anthems I composed:
1. UNITED SAMOAN CHURCH CHOIR, Carson, CA. 
My career as a hymn composer started here when I was about 17 years old.  I started teaching Psalms by my father (e.g. "E sili lava Ieova"). The first Psalm I composed for our choir was "Tula'i ia, ina malamalama ia"  when I was about 18 years old. It was for our Church Dedication.
2. KANANA FOU SEMINARE CHOIR, American Samoa.
3. TAFATOLU EFKAS CHOIR, San Jose, CA.
4. MALAMALAMA O LE ALOFA TUNOA, Hawaii  
5. EKALESIA FAAPOTOPOTO A IESU, Fagatogo, American Samoa
6. EFKAS CHOIR, Pago Pago, American Samoa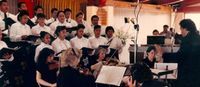 United Samoan Church Youth  Choir with Chamber Orchestra  Organist: Fannie To'oto'o
0:00/9:04

0:00/6:53

0:00/4:00

0:00/14:41

0:00/7:45

0:00/5:50

0:00/3:50

0:00/1:57

0:00/6:00

0:00/13:09